There are so many amazing artists on etsy! I have at least 23 pages of favorites and every time I look at them I'm wowed. I'm amazed at the talent of all these people.
So... I'm going to start posting some of my
absolute favorite
shops and items on here every few days. I really believe in supporting artists, since I am an artist myself of course and I think showing these items might just
brighten your day
as well because the items are so great in my eyes. I know we don't all have the same style and likes, but the ones I post will give you a peek into
what really speaks to me
.
All of her items are beautiful, vibrant and inspirational, and one of them that really caught my eye was this mixed media print with the quote, "the universe is conspiring in your favor." I LOVE motivational sayings that put me in a positive mindset and this as well as the colors and different elements do that for me.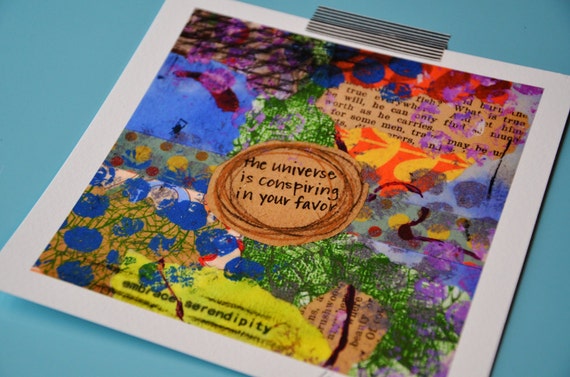 (Photo source: choosingbeauty)
If you're like me and enjoy unique artwork mixed with inspiration, check out her shop if you haven't yet!