Today I'd like to share an interview with the

lovely Lori Leissner

, a mixed media artist and "occasional poet" living in Texas.

We met through Flying Lessons, an e-course sponsored by artist Kelly Rae Roberts.

Sit back and enjoy learning more about Lori and her inspirations.
Do you remember when you first really started to enjoy creating things?
When I was a kid, we lived in a tiny, rural town (pop. 291) where there was no cable, no neighbors, and not very many distractions, so I made up my own.

I made mudpies, created a playhouse out of a chicken coop, wrote twanging country songs while sitting on the roof of the barn.

I started drawing in elementary school and got my first camera in middle school.

Beyond elementary school, art was not offered, but I retained an artistic spirit that was just waiting for an opportunity to launch.

My kids are more autonomous now and I have a little space both in my home and in my time for art. So, now's the time!
Who are some artists that have inspired you or are still inspiring you along your creative journey?
Unfortunately, I haven't spent a great deal of time studying artists and am really just now beginning to do that.

It was a style that really captured my attention.

I bought some art technique books and realized mixed media was the art form for me.

From there, I am tracing back to artists that inspire me. Kelly Rae Roberts' book Flying Lessons was one of the first books I bought.

At some point, I discovered Mae Chevrette on Etsy.

I love her youthful, carefree personality.
Do you have a muse or an inspiration that helps you with your creations and design?
My goal is to speak my faith in Christ Jesus through my art.

While not every piece is an overt testimony, I try to base my art on Christian principles by either acknowledging the difficulties of navigating the temptations of the world or to recognize the wonder of God's blessings here on Earth.

I use a lot of scripture and faith based quotations in my art.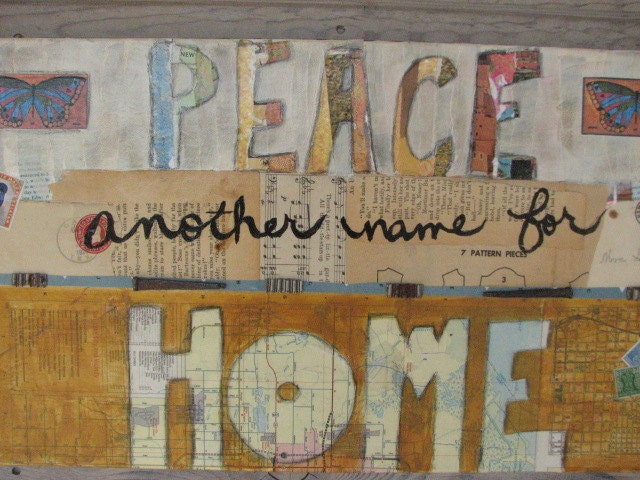 (photo courtesy of Leissner Art on etsy; my personal favorite creation of Lori's)
If you could have lunch with anyone (alive or dead) who would it be and why?
I'd like to have another lunch with my dad.

He died suddenly 3 years ago.

Because he was gone in an instant, there were some things left unsaid.

It would be an amazing blessing to get to say those things and kiss his forehead one more time.
What do you do for a living, outside of creating artwork?
I'm a Quality Assurance Specialist.

If I weren't a Quality Assurance Specialist for a living, I would definitely be an artist. :)
What is your favorite quote, motto or affirmation?
In her book One Thousand Gifts, Ann Voskamp writes about finding grace in the trials and tragedies of life by really looking for it, focusing on how God uses those things to draw us closer to Him and giving thanks for those things.

The line that stands out most for me in her book is, "The remedy is in the retina."

The solution to our unhappiness is to find the grace because it's there.

It's always there.

We just have to see it and give thanks for it.

I love that.
Do you have a community of other artists or friends/family members who you consider to be supportive of your creative endeavors?
I don't know any artists locally.

My mom and my husband are my biggest cheerleaders.

My on-line friends from Kelly Rae Roberts' Flying Lessons class are my go-to gals for art advice and guidance.
If you have an afternoon free, all by yourself, what would your dream day look like?
Assuming my house is already clean, I would make some coffee, sit on the porch for a while in my rocking chair soaking up some sun and communing with nature and my dog Sophie.

Next I would go upstairs, turn up the Needtobreathe and Third Day, crack open the gel medium and start tearing, gluing and painting.
Do you have any favorite blogs you enjoy reading and would you share them with us?
I love The Pioneer Woman. She's hilarious and knows how to cook, too.

I just found All Things Heart and Home and am in love with it.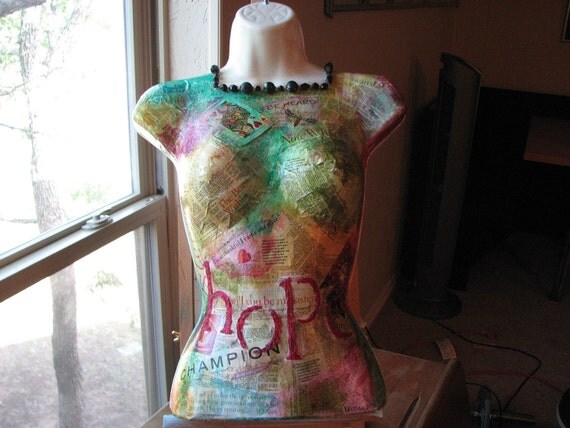 (photo courtesy of Leissner Art on etsy)
Do you have any future dreams or goals that you are working on or dreaming about?
I would love be able to quit my day job at some point and just make art full time either for fun or for income (ideally both!).
What advice would you give to aspiring artists who truly want to live a creative life?
Although I'm not sure I'm in a position to give advice on how to live a creative life at this point, general life experience I've gained that's worth sharing is to never give up.

Take a break.

Pause.

Detour.

Rewrite the script.

But don't give up.

There's always a way.
I would love to thank Lori for sharing her life and inspirations with us. She's a positive and creative woman who is touching so many lives with her outlook and her art. I'm sure those of you who know her will agree. You can visit her creations at
Leissner Art
.